Together with research teams in Tsinghua University and Hong Kong University of Science and Technology (HKUST), Professor Sasu Tarkoma of HIIT (deputy head of UH computer science department, director of NODES research group) organized a successful workshop on cloud and mobile computing in Hong Kong this year.
The goal of this workshop is to bring together professors, senior researchers and PhD students to exchange research ideas and implementation experience on cloud and mobile computing. The topics include software-defined networking (SDN), augmented reality, urban computing, big data analysis, mobile offloading and 5G networks. HIIT researchers including Eemil Lagerspetz, Petri Savolainen, Aaron Yi Ding, Kai Zhao, and Ella Peltonen presented their work in the workshop.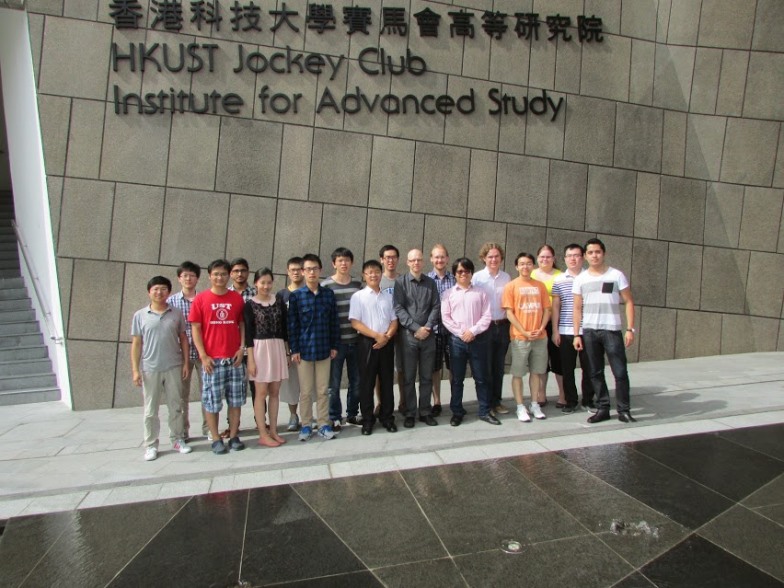 * Group photo at the workshop building funded by the famous Hong Kong Jockey Club
Being a great opportunity to strengthen the collaboration with the leading Asian partners, both Tsinghua and HKUST are ranked as the top 3 Asian universities in computer science and engineering according to the Academic Ranking of World Universities 2014.
To continue the success of this year, the next workshop will be held by Tsinghua University in 2015.
More photos on the workshop can be found here: Photos in Hong Kong 2014
---
Last updated on 13 Nov 2014 by Yi Ding - Page created on 13 Nov 2014 by Yi Ding